WAITLISTED: Photography
WAITLISTED: Photography
4-Week A
Block 1
WAITLISTED: Grades 5 to 8
4-Week A
Block 2
WAITLISTED: Grades 5 to 8
4-Week B
Block 1
WAITLISTED: Grades 5 to 8
4-Week B
Block 2
WAITLISTED: Grades 5 to 8
This Major can be taken in two-week increments. Our 4- and 8-week sessions are divided into two-week blocks, giving students the option to change their Major every two weeks.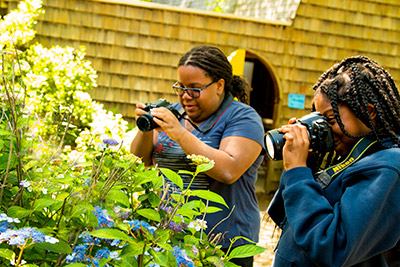 Dive deep into the fundamental principles of composition and lighting with Usdan's woodland campus as your backdrop. Photography Majors spend their days in the studio and around campus engaging in a combination of direct instruction by experienced arts educators and professional photographers, studio work time, collaboration with other young artists, and sharing and reflecting on their work. Mac computers are used in this Major for imaging, photo enhancement, printing, and digital presentation. 
Campers are asked to supply their own digital camera, though a limited number of cameras are available to lend out if necessary. All levels welcome. 
"I loved all the fun projects we did, the fun photo walks, and how much I learned. Teachers were amazing too."  
—Sophie
"My favorite part of Photography was the collaborations between students and other classes." 
—Danielle 
For information on COVID procedures in this Department, please visit our COVID Updates page.
In addition to their three-period Major, students enjoy a rotating one-period Recreational Activity every day with their group. Visit our Recreational Activity page for more information.