Our Mission
Usdan provides young artists the opportunity to joyfully express themselves through their creativity. Our inclusive community is guided by Jewish values upon which we were founded half a century ago. Each summer we welcome a diverse group of children and teenagers to our stunning campus in the woods. In partnership with world-class artists and talented educators, students at all levels and from all backgrounds explore paths that lead to individual and artistic growth. Here we emphasize that developing skills and discovering the creative process is as fulfilling as showcasing artistic achievement. Usdan serves the youth of New York City and Long Island, though the impact of our alumni extends far beyond our region. Our goal is to instill in young people a desire and drive to contribute creatively to the world now and for the rest of their lives.
The following principles inspire us and shape our Long Island summer art camp programs.
1. Every camper, every studio, every summer
We believe kids are happier, healthier humans when they're creating. With nearly 70 classes and over 1,500 students each summer, Usdan guides every camper on a path of individual and creative growth, with the help of a team of artists and talented arts educators. The Usdan approach is distinctively interactive and hands-on, rooted in a balance between creative process, artistic practice, and craft on the one hand, and final product and performance on the other. Programs allow students to dive deeply into a single discipline while also exploring across multiple disciplines. Advanced students have abundant opportunities to deepen their craft alongside distinguished, professional artists.
2. Intentionally "both/and"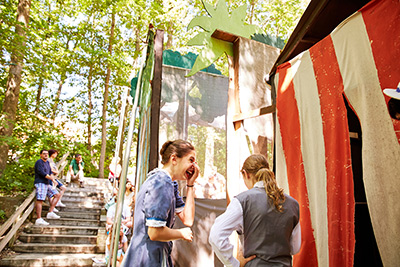 We're designed for joy above all else, yet students learn at the highest levels. We make the forest wilds our home, yet campers and faculty practice some of the highest forms of culture. We are endlessly intrigued by the relationship between the messiness of the creative process and the refined beauty of work we call "finished." We're experts in classical thinking but devoted to innovation and experimentation.
3. A two-way exchange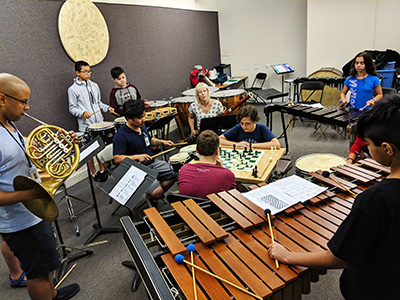 We bring world-class teachers and visiting artists—actors, directors, playwrights, painters, sculptors, musicians, composers, dancers, poets, and novelists—to teach and collaborate with Usdan campers who range in age from 5 to 18. It's a two-way exchange, because we know experienced artists and young creators contribute to one another's work and development.
4. A camp of makers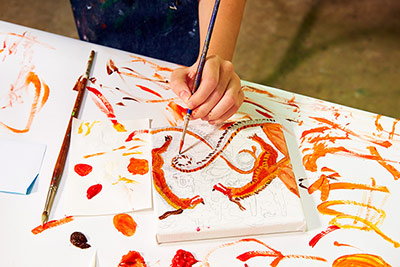 Campers show up every day excited to create, finding a sense of fulfillment from developing their own artist's practice and working with other artists.  Moreover, each day students have a chance to witness the fruits of their own work and others through Usdan's Festival Series, which showcases the talents of campers in all disciplines as well as distinguished artists from around the world.  These daily performances are a distinguishing feature of Usdan, contributing to our reputation as one of the best summer camps in NYC.
5. Diverse from the start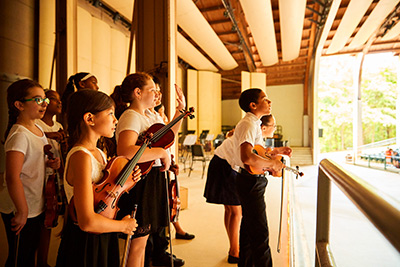 Usdan is a place that calls to the artist in everyone. We welcome campers at all stages in their creative journeys, campers whose personal lives and stories represent a multiplicity of ages, abilities, talents, races, genders, and economic and geographic backgrounds. All converge here to create. From the beginning, we've encouraged young people to find their own voice and talents through learning in a diverse community. Usdan's dynamic, eclectic community makes it one of the best summer camps in NYC region for young artists.