WAITLISTED: Ceramics
WAITLISTED: Ceramics
4-Week A
Major: Grades 6–12 (WAITLISTED)
4-Week B
Major: Grades 6–12 (WAITLISTED)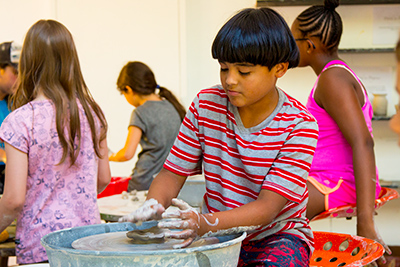 Explore and create traditional and experimental pottery, stoneware, and earthenware under the guidance of an experienced arts educator and professional ceramicist. While focusing on hand-building and throwing on the potter's wheel, students study ceramic design, sculpture, and glaze technology. 
Ceramics students spend their days in open-air studios engaging in a combination of direct instruction, studio work time, collaboration with other young artists, and sharing and reflecting on their work. At the end of their session, students have the opportunity to celebrate their work by participating in the Art Parade, Open Studios day, or a celebration with their class in-studio. All levels welcome. 
While we offer this Major for the 4-week sessions, we recommend taking it for the 8-week session to get the full exposure to this unique art-making process.
"Doing a combination of things in one subject is exciting. I loved hand-building and glazing."
—Eleanor 
"What I liked most was that there was lots of experimentation and access to supplies." 
—Nicole