Our Summer Nature Program on Long Island
Hands-On Ecology, Sustainability, and Gardening Classes For Kids
Usdan's forest is an ideal place to experience and learn about the natural world. This hands-on program, led by experienced nature educators, helps students foster a connection with the environment through exploration, creativity, and mindfulness. At our Nature Center and Organic Garden, students learn about the plants and wildlife of Usdan, make art from natural materials, grow food and other plants, learn about sustainable practices and design, and connect with other nature enthusiasts. Nature & Sustainability students spend most of their day outdoors.  
Summer Camp Busing for Long Island, Brooklyn, Manhattan, and Queens Kids
For over fifty years, Usdan has offered an enriching summer camp experience to children all over the region, from Manhattan, Queens, and Brooklyn in New York City, to Port Washington and Huntington, and all over Nassau and Suffolk counties. Usdan offers busing to and from camp from convenient central pickup locations. For more information on busing, please visit our Transportation page. 
Classes
Nature, Ecology & Design
4-Week A
Major: Grades 2–6
Minor: Grades 2–6
4-Week B
Major: Grades 2–6
Minor: Grades 2–6
Usdan's amazing woodland setting provides an ideal opportunity to explore Long Island's vibrant ecosystems. Get your hands dirty as you gain an appreciation for the natural world, viewed through the lenses of creativity and sustainability. Connect with nature through learning, mindfulness, observation, and reflection under the guidance of experienced nature educators. Learn about plants, wildlife, sustainable practices, and more with daily activities in gardening, art-making, and forest exploration. Students remain outdoors except when it rains; then they continue their projects in a studio with plenty of windows, exposed to their natural surroundings. 
"You get to see animals, do crafts, go on hikes, and make new friends."
—Jayden
Organic Gardening
4-Week A
Major: Grades 4–12
4-Week B
Major: Grades 4–12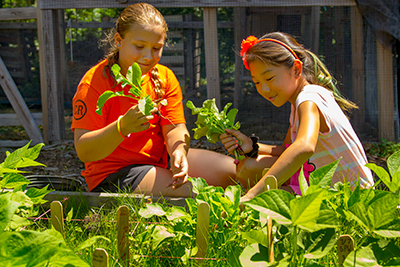 Be part of the miracle of growing plants, and connect with other nature enthusiasts. Led by an experienced nature educator, this class gives you the chance to plant, care for, and harvest herbs, fruits, and vegetables in Usdan's organic garden. Students also learn simple food prep  such as making yogurt pops, salads, mocktails, and more. Learn about sustainable practices and how to use unconventional and found materials to create garden structures. Classes are grouped according to age division and grade.   
"It's a nice experience learning how to garden."
—Marcus
"My favorite part was that we got to grow our garden."
—Benjamin
Sustainable Design
4-Week A
Major: Grades 4-12
4-Week B
Major: Grades 4-12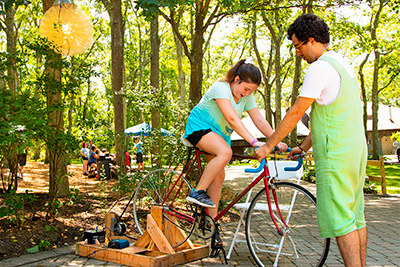 This class teaches students to use unconventional materials to create sustainable solutions and environmentally focused art and design. Students create things out of nothing, using materials such as sunlight and recycled and found objects. The results are unexpected, and the process is fun! In past years, students worked as a team to make a wind-powered air conditioner, a bike-powered generator, and a solar barbecue. This class is open to thinkers from all disciplines. 
"I enjoyed the tasks that we had to complete using mostly things we found on our own." 
—Luke
Department Faculty & Staff