The Usdan Troupe
The Usdan Troupe
4-Week A
Block 1
Grades 8 to 12
4-Week A
Block 2
Grades 8 to 12
4-Week B
Block 1
Grades 8 to 12
4-Week B
Block 2
Grades 8 to 12
An audition is required to determine acceptance or placement into this Major.
This Major must be taken for the full 8-week session.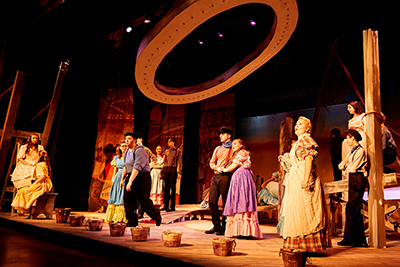 Our most sophisticated student performers are invited to participate in the entire process of making live musical theater, from audition to performance. Former company members describe the Troupe experience as "summer stock theater for teens." Recent shows include Finian's Rainbow, Grand Hotel, Sunday in the Park with George, Carousel, and Singin' in the Rain. The Troupe presents a fully staged musical production at the end of the summer. Rehearsals take place in open-air studios with at least one side exposed to the natural environment. 
Usdan will provide guidelines for a required video audition shortly after enrollment. 
Admission to the Usdan Troupe will be limited to qualified applicants who submit an audition recording, until capacity is reached. Students will be asked to submit their recording shortly after enrollment. Students who have taken this Major previously do not need to audition again.
"My favorite part was everything! The students ... teachers ... their talent ... how much I learned ... the overall experience changed my view on performing."  
—Alaina
For information on COVID procedures in this Department, please visit our COVID Updates page.
In addition to their three-period Major, students enjoy a rotating one-period Recreational Activity every day with their group. Visit our Recreational Activity page for more information.