Sewing & Fashion Design
Sewing & Fashion Design
4-Week A
Block 1
Grades 5 to 8
4-Week A
Block 2
Grades 5 to 8
4-Week B
Block 1
Grades 5 to 8
4-Week B
Block 2
Grades 5 to 8
This Major can be taken in two-week increments. Our 4- and 8-week sessions are divided into two-week blocks, giving students the option to change their Major every two weeks.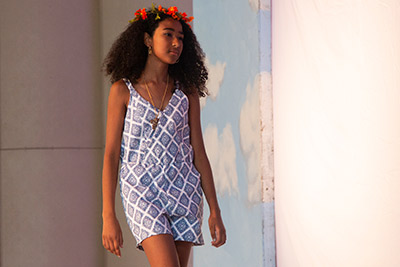 Create your own personal style and wearable art from concept to construction under the guidance of experienced arts educators and professional seamstresses and designers. Students are grouped based on past sewing experience. Our Level I group introduces you to sewing machine operation and patterns; Level II offers advanced techniques and free design. 
Sewing & Fashion Design Majors spend their days in open-air studios engaging in a combination of direct instruction, studio work time, collaboration with other young artists, and sharing and reflecting on their work. All levels welcome. Placement is based on a short questionnaire at the time of enrollment. 
"We were so expressive in our pieces and were able to accomplish so much."
—Aaliyah
"I enjoyed learning to sew quickly and confidently so I can sew things on my own in the future."
—Gari
For information on COVID procedures in this Department, please visit our COVID Updates page.
In addition to their three-period Major, students enjoy a rotating one-period Recreational Activity every day with their group. Visit our Recreational Activity page for more information.