Performance: The Usdan Troupe
Performance: The Usdan Troupe
An audition is required to determine acceptance or placement into this class.
This Major must be taken for the full 8-week session.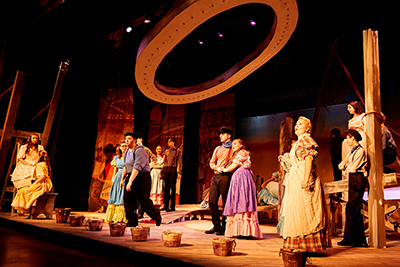 Usdan's most accomplished student performers are invited to participate in the entire process of making live musical theater, from audition to performance. This three-period Major provides students additional time to develop their musical and theatrical skills, discover new characters, and deeply explore the mannerisms and behaviors of a role. Usdan's musical theater productions are led by two lead faculty members, one director and one musical director, who are professional theater educators specializing in directing and music directing. Each summer, Troupe students express how they find lifelong friends and creative collaborators in their cast mates. At the end of the summer, the Usdan Troupe presents a fully staged musical production. Recent shows include Grand Hotel, Les Misérables, Carousel, Singin' in the Rain, and Titanic. Join what former company members describe as "summer-stock theater for teens." 
Rehearsals take place in open-air studios with at least one side exposed to Usdan's beautiful wooded campus. Admission to the Usdan Troupe is subject to audition; students will be asked to submit an audition recording including a song of their choice shortly after enrolling. Students who have taken this Major previously do not need to audition again.
To get a better feel for the Usdan Troupe Major, watch this short video made during Summer 2022. 
"The overall experience changed my view on performing."  
—Alaina
"My favorite parts were the bond that we shared and the dedication that the directors put into their work for us."
—Erik
"This group felt like a family."
—Vanessa