Creative Writing
Creative Writing
4-Week A
Block 1
Grades 6 to 12
4-Week A
Block 2
Grades 6 to 12
4-Week B
Block 1
Grades 6 to 12
4-Week B
Block 2
Grades 6 to 12
This Major can be taken in two-week increments. Our 4- and 8-week sessions are divided into two-week blocks, giving students the option to change their Major every two weeks.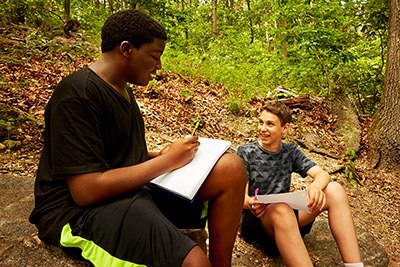 Our open-air writing studios provide a welcoming environment for young storytellers to write poetry, short fiction, and plays, individually and in small collaborative groups. Use your imagination and find your creative voice, while developing concrete elements of storytelling like structure, point of view, and conflict and resolution. You will also collaborate with peers from other artistic disciplines and use the natural environment at Usdan to inspire and make connections within your writing. Under the instruction of an experienced writing educator and practicing writer and poet, you will spend your days playing writing and word games, writing, revising, sharing, and collaborating. The summer culminates with the publication of your work in Usdan's student-authored Literary Journal.
"It encouraged me to be more creative than I thought I could be." 
—Rina
"It's a writer's dream. My ideas couldn't flow until I went there. My favorite part was the way every student and the teacher supported each other." 
—Soleil
For information on COVID procedures in this Department, please visit our COVID Updates page.
In addition to their three-period Major, students enjoy a rotating one-period Recreational Activity every day with their group. Visit our Recreational Activity page for more information.