ALMOST FULL: Discovery
ALMOST FULL: Discovery
4-Week A
Block 1
ALMOST FULL: Grades K to 1
4-Week A
Block 2
ALMOST FULL: Grades K to 1
4-Week B
Block 1
Grades K to 1
4-Week B
Block 2
Grades K to 1
This Major must be taken for a full 4-week session.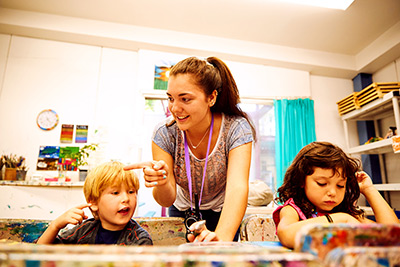 The Discovery program provides a fun and exciting exploration of the arts for students in kindergarten or 1st grade. Surrounded by Usdan's woodland campus, and using the Discovery Center as a base, children have experiences in Music, Art, Dance, Nature & Sustainability, and Recreational Arts led by professional artists and educators. Two college-age counselors help guide each small group of 12 students throughout their adventurous day, while also creating diverse and engaging activities that are tailored to students' interests and fostering a safe, nurturing, and positive atmosphere. 
After completing their 1st-grade summer at camp, children from the Discovery program head into Usdan's Classic program feeling confident and excited because they have spent their summer getting a taste of its many opportunities.
The Discovery Center is open-air, with many sides exposed to the wooded campus, allowing for plenty of ventilation.
For information on COVID procedures in this Department, please visit our COVID Updates page.