Absolute Beginner Piano
Absolute Beginner Piano
4-Week A
Minor: Grades 3–12
4-Week B
Minor: Grades 3–12
This class can be taken for the 4-Week A Session or the 4-Week B Session, but not for both.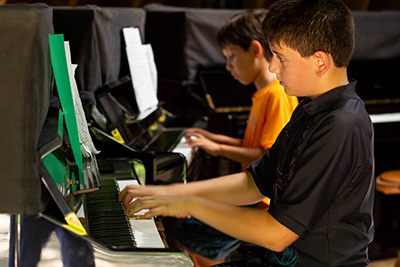 In this preparatory piano class, students learn the fundamentals of piano playing by
studying the geography of the keyboard, pentascales, full-octave scales, contrary-motion scales, note reading, rhythm, triads with inversions, and simple arpeggios. Repertoire is selected from method books as well as traditional favorites and contemporary pieces from pedagogical collections. Young pianists receive their instruction under the expert guidance of a professional pianist and music educator. Classes are grouped according to age division and grade. This class can be taken for the 4-Week A or 4-Week B session, but cannot be taken for both.
Enrollment Note: This is a popular course with limited enrollment and tends to fill quickly. If you are interested in this course, we recommend enrolling as soon as possible.
"I learned more about piano and made friends in the process."
—Jordan
"The teacher was very supportive and nice."
—Miguel