AN OUTDOOR SUMMER CAMP EXPERIENCE
The Recreational Arts Department supports students' creative development by encouraging physical activity and play. Set in an idyllic forest, Usdan's campus is joined together by walking paths designed for optimal enjoyment of fresh air and natural light. Children swim in two large outdoor pools; play sports including gaga, basketball, and badminton; and practice yoga and archery. Recreation at Usdan is focused on building confidence and mindfulness, fostering teamwork, and having fun. Courses in our Chess and Dance Departments are also considered Recreational Activities.
Recreational Camp Program
Usdan's Recreational Camp Program provides an opportunity for campers to experience the beauty of Usdan's wooded campus and recreational spaces, including its swimming pools and archery range, and to join Usdan's welcoming and inclusive community, while having fun, being active, and making new friends. 
Students have one period of swimming, one period of archery, and one period of general recreation, including activities and games such as cornhole, four-square, badminton, and more, in addition to an art station. Our Recreational Camp students also get a taste of Usdan's Classic Program with one period of Art, taught by experienced art educators and professional artists, as well as a daily Festival Performance by professional and student artists to delight, surprise, and inspire them. Each group is guided through their days by one or two counselors.=
Summer Camp Busing for Long Island, Brooklyn, Manhattan, and Queens Kids
For over fifty years, Usdan has offered an enriching summer camp experience to children all over the region, from Manhattan, Queens, and Brooklyn in New York City, to Port Washington and Huntington, and all over Nassau and Suffolk counties. Usdan offers busing to and from camp from convenient central pickup locations. For more information on busing, please visit our Transportation page. 
Classes
Archery
4-Week A
Minor: Grades 3–12
Rec: Grades 3–12
4-Week B
Minor: Grades 3–12
Rec: Grades 3–12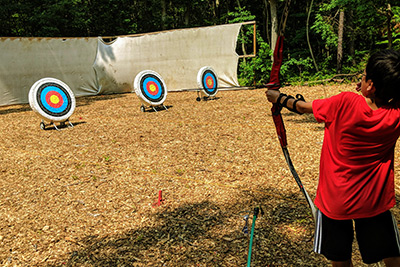 A Usdan favorite, Archery gives students an unforgettable opportunity to learn form and technique from an experienced archery instructor. Young archers strengthen their concentration and confidence in a safe and beautiful environment. Classes are grouped according to age division and grade.   
Enrollment Note: This is a popular course with limited enrollment and tends to fill quickly. If you are interested in this course, we recommend enrolling as soon as possible.
"I learned to do something most people have never done!" 
—Sofia
U Time
4-Week A
Minor: Grades 2–12
Rec: Grades 2–12
4-Week B
Minor: Grades 2–12
Rec: Grades 2–12
Choose from a variety of activities each day, at the pools and other upper campus areas. Junior students who choose to swim have instructional swim Monday through Thursday and free swim on Friday, while Senior students have free swim all days. An assessment is required for all students who choose to swim. Other activities include gaga, four-square volleyball, cornhole, basketball, badminton, and board games. U pick, it's U Time!
Yoga
4-Week A
Minor: Grades 2–12
Rec: Grades 2–12
4-Week B
Minor: Grades 2–12
Rec: Grades 2–12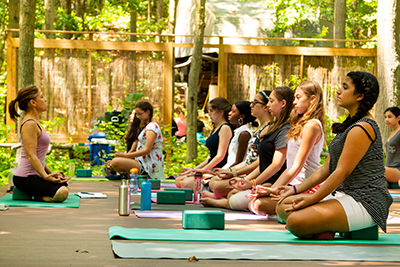 Yoga classes are conducted on gorgeous outdoor yoga platforms underneath the trees of Usdan—the perfect setting for young yogis to cultivate this age-old practice of movement and mindfulness. Students bring their own yoga mats or use ones provided by Usdan. Classes are grouped according to age division and grade.   
"My favorite part was the mental and physical strength-building." 
—Mya
"I liked how calm it made you feel, how much better you felt walking out." 
—Charlotte
Department Faculty & Staff