Dear Usdan Community,
When I read this week's edition of Bill McKibben's New Yorker newsletter "The Climate Crisis," my heart hurt. McKibben explained that the weight of human-made stuff on the planet now weighs more than all the living things.
A discrete number of decision makers in select political and corporate positions will most impact the course of the climate crisis. Yet, the urgency of the crisis requires us all to continually address climate change in ways that suit us personally, whether by reading on the subject, signing petitions, changing lifestyles, or making art about climate change. 
My way of addressing climate change has been through Usdan, both operationally and artistically. This year, we created Usdan's sustainability strategy to become fully sustainable by 2030 in terms of waste, emissions, and impact on the land. Plus, we aspire for all children to transfer what they learn about sustainability at Usdan into their outside lives. Further, we are building a network of sustainable camps across the US and Canada.
Our other way of addressing climate change is through art. Usdan now has a group of faculty, artists in residence, alumni, and students experimenting and creating new artworks that help deepen the viewer's or audience member's desire to address climate change. Every few weeks, we meet virtually to play with, and show, our work. Last week, under the guidance of International Contemporary Ensemble's Artistic Director Ross Karre, we played a game to co-write a libretto about a river animal hurt by climate change and then listened to a soprano perform the work.
If climate change is top of mind for you, I invite your children or you to join our experimental art group. To do so, simply email director@usdan.org to learn more and join us.
Lauren Brandt Schloss, Executive Director
---
Enjoy watching the work of Usdan's Sustainable Design 2019 class.
---
I chose this poem for you.
The Summer Day by Mary Oliver
Who made the world?
Who made the swan, and the black bear?
Who made the grasshopper?
This grasshopper, I mean—
the one who has flung herself out of the grass,
the one who is eating sugar out of my hand,
who is moving her jaws back and forth instead of up and down—
who is gazing around with her enormous and complicated eyes.
Now she lifts her pale forearms and thoroughly washes her face.
Now she snaps her wings open, and floats away.
I don't know exactly what a prayer is.
I do know how to pay attention, how to fall down
into the grass, how to kneel down in the grass,
how to be idle and blessed, how to stroll through the fields,
which is what I have been doing all day.
Tell me, what else should I have done?
Doesn't everything die at last, and too soon?
Tell me, what is it you plan to do
with your one wild and precious life?
—Mary Oliver
---
This comic by Madeleine Jubilee Saito says so much with so little.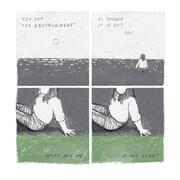 ---
"All We Can Save" is a new book of "provocative and illuminating essays from women at the forefront of the climate movement who are harnessing truth, courage, and solutions to lead humanity forward." The book includes a collection of poems.