WAITLISTED: Sculpture (Grades 2-4)
WAITLISTED: Sculpture (Grades 2-4)
4-Week A
Block 1
WAITLISTED: Grades 2 to 4
4-Week A
Block 2
WAITLISTED: Grades 2 to 4
4-Week B
Block 2
WAITLISTED: Grades 2 to 4
This Major can be taken in two-week increments. Our 4- and 8-week sessions are divided into two-week blocks, giving students the option to change their Major every two weeks.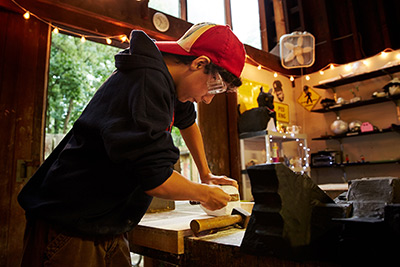 Sculptors create three-dimensional art with wood, plaster, wire, metal, and more. Inspiration is all around as students experiment with new materials and imagery—both representational and abstract—and work together with classmates to produce large-scale installations and sculptures. 
Sculpture Majors spend their days in open-air studios engaging in a combination of direct instruction by experienced art educators and professional sculptors, studio work time, collaboration with other young artists, and sharing and reflecting on their work. They have opportunities to work with faculty other than their lead teacher to add variety and new skills to their learning. All levels welcome. 
"In this class you can use different materials to create cool sculptures. I LOVED working with mixed media."
—Emile 
For information on COVID procedures in this Department, please visit our COVID Updates page.
In addition to their three-period Major, students enjoy a rotating one-period Recreational Activity every day with their group. Visit our Recreational Activity page for more information.