Vocal Ensemble (Grades 7-12)
Vocal Ensemble (Grades 7-12)
4-Week A
Block 1
Grades 7 to 12
4-Week A
Block 2
Grades 7 to 12
This Major must be taken for a full 4-week session.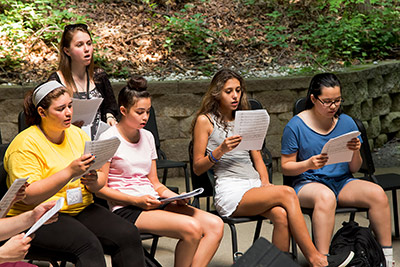 Foster your love for music and community in Usdan's Vocal Ensemble. Led by professional music educators, vocalists in this Major focus on vocal technique, diction, solo and ensemble singing. Music repertoire is chosen from varied genres, composers, and time periods. In addition to learning and rehearsing vocal repertoire, students have the opportunity to learn a secondary skill, such as sight-singing, basic piano skills, solo/NYSSMA preparation, and beginner ukulele. Vocal Ensemble takes place in open-air studios with at least one side completely open and exposed to the surrounding woodland campus.
"We learn in a great environment!"
—Anthony
"We sing and perform a very wide range of music that is amazing to sing. I enjoyed the whole process of learning the music...and seeing it all come together is an amazing thing" 
—Kennedy
For information on COVID procedures in this Department, please visit our COVID Updates page.
In addition to their three-period Major, students enjoy a rotating one-period Recreational Activity every day with their group. Visit our Recreational Activity page for more information.