Theater Skills: Comic Acting & Storytelling
Theater Skills: Comic Acting & Storytelling
4-Week A
Block 1
Grades 5 to 8
4-Week A
Block 2
Grades 5 to 8
4-Week B
Block 1
Grades 5 to 8
4-Week B
Block 2
Grades 5 to 8
This Major can be taken in two-week increments. Our 4- and 8-week sessions are divided into two-week blocks, giving students the option to change their Major every two weeks.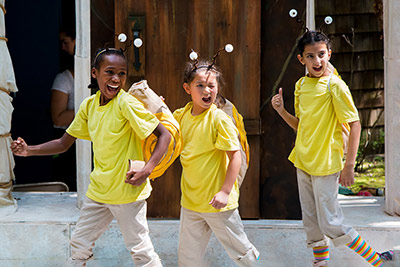 Make an audience laugh, make them wonder. Sharpen your comic timing and learn to tell a story that will have them begging for more. Under the instruction of a professional theater educator and performer, students spend their days engaging in warm-ups and exercises, working on individual and small-group pieces, and sharing and receiving feedback from fellow actors and your comedy coach. Classes take place in open-air studios with at least one side exposed to the natural environment.
For information on COVID procedures in this Department, please visit our COVID Updates page.
In addition to their three-period Major, students enjoy a rotating one-period Recreational Activity every day with their group. Visit our Recreational Activity page for more information.