Organic Gardening & Sustainability
Organic Gardening & Sustainability
4-Week A
Block 1
Grades 5 to 8
4-Week A
Block 2
Grades 5 to 8
4-Week B
Block 1
Grades 5 to 8
4-Week B
Block 2
Grades 5 to 8
This Major can be taken in two-week increments. Our 4- and 8-week sessions are divided into two-week blocks, giving students the option to change their Major every two weeks.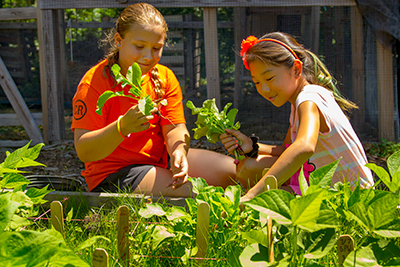 Be a part of the miracle of growing plants and connect with other nature enthusiasts. Led by an experienced nature educator, this Major gives you the chance to plant, care for, and harvest food from Usdan's fruit and vegetable gardens, as well as eggs from Usdan's chickens. Learn about sustainable practices and how to use unconventional and found materials to create sustainable solutions and environmentally focused art and design. Students remain outdoors except for when it rains; then they continue their projects in a well-ventilated studio with plenty of open windows and doors . 
"It's a nice experience learning how to garden."
—Marcus
"My favorite part was that we got to grow our garden and make sustainable sculptures."
—Benjamin
For information on COVID procedures in this Department, please visit our COVID Updates page.
In addition to their three-period Major, students enjoy a rotating one-period Recreational Activity every day with their group. Visit our Recreational Activity page for more information.