Next Generation Rhythm Studies: Tap and Hip Hop (Grades 4-10)
Next Generation Rhythm Studies: Tap and Hip Hop (Grades 4-10)
4-Week A
Block 2
Grades 6 to 12
This Major can be taken in two-week increments. Our 4- and 8-week sessions are divided into two-week blocks, giving students the option to change their Major every two weeks.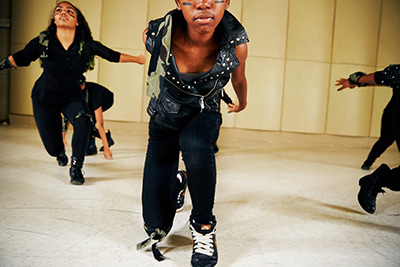 Expand your knowledge of percussive dance forms that challenge you to tap, step, and pop-and-lock it out. Under the guidance of experienced dance educators and professional dancers, each day campers spend one period in tap, another in hip hop, and a third collaborating and creating their own dances. Dance studios are open-air with at least one side exposed to the natural environment. All levels welcome. If you have two or more years of experience in percussive dance (hip hop, jazz, tap, or step), we recommend taking our Rhythm Studies II Major.
For information on COVID procedures in this Department, please visit our COVID Updates page.
In addition to their three-period Major, students enjoy a rotating one-period Recreational Activity every day with their group. Visit our Recreational Activity page for more information.