Musical Theater Skills: Songs from Contemporary Theater
Musical Theater Skills: Songs from Contemporary Theater
4-Week B
Block 1
Grades 4 to 6
4-Week B
Block 2
Grades 4 to 6
This Major can be taken in two-week increments. Our 4- and 8-week sessions are divided into two-week blocks, giving students the option to change their Major every two weeks.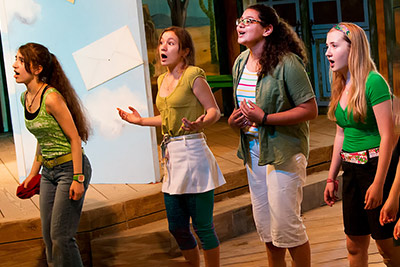 The new century has brought exciting and different styles of song and performance to the American stage. In Songs from Contemporary Theater you will learn to perform the musical theater songs of today. Think Hadestown, Hamilton, Come From Away, Jagged Little Pill, and The Prom. Under the instruction of a professional theater educator and performer, students spend their days engaging in vocal warm-ups and exercises, working on individual songs and duets, and sharing and receiving feedback from fellow singers. Classes take place in open-air studios with at least one side exposed to the natural environment. 
For information on COVID procedures in this Department, please visit our COVID Updates page.
In addition to their three-period Major, students enjoy a rotating one-period Recreational Activity every day with their group. Visit our Recreational Activity page for more information.