Musical Theater Performance
Musical Theater Performance
4-Week A
Block 1
Grades 4 to 9
4-Week A
Block 2
Grades 4 to 9
4-Week B
Block 1
Grades 4 to 9
4-Week B
Block 2
Grades 4 to 9
This Major must be taken for a full 4-week session.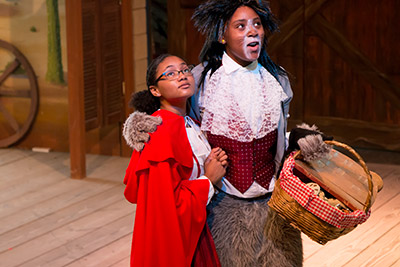 This Major is an opportunity to study musical theater through the entire cycle of a production, including audition, rehearsal, blocking, staging, choreography, ensemble work, and performance. Over the course of four weeks, students audition for roles and learn how casting decisions are made, discover the joys of collaboration, and develop responsibility as they work together to put on their show. Usdan's musical theater productions are directed by professional theater educators specializing in directing and music-directing. Rehearsals take place in open-air studios with at least one side exposed to the natural environment. 
"The show, rehearsal, and auditions are very professional. My favorite part was the way the company becomes a family and the way the show comes together." 
—Myla
For information on COVID procedures in this Department, please visit our COVID Updates page.
In addition to their three-period Major, students enjoy a rotating one-period Recreational Activity every day with their group. Visit our Recreational Activity page for more information.