Chess (Grades 2- 6)
Chess (Grades 2- 6)
4-Week A
Block 1
Grades 2 to 6
4-Week B
Block 1
Grades 2 to 6
This Major can be taken in two-week increments. Our 4- and 8-week sessions are divided into two-week blocks, giving students the option to change their Major every two weeks.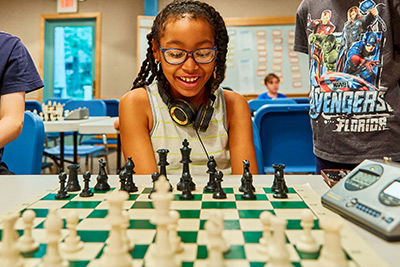 Whether you are a new or experienced chess player, Usdan's Chess Major is uniquely designed to meet the needs of each student no matter their experience level. The Usdan Chess Ladder groups students in varying levels, from absolute novices to advanced players. New players learn rules, notation, and the opening, middle, and end games. Advanced players develop a vast repertoire of complex strategies and the ability to apply them in-game. Chess players benefit from improved problem-solving, critical thinking, and concentration. Students hone their skills through game-play and tutoring in competitive chess tournaments and exciting team competitions. Instruction is conducted in the well-ventilated Maurice B. Hexter Center by highly ranked tournament players with decades of experience.
"What I liked most was that I got to play many different people with no pressure."
—Dylan
"I was able to play a lot of chess and learn from my mistakes."
—Noah
For information on COVID procedures in this Department, please visit our COVID Updates page.
In addition to their three-period Major, students enjoy a rotating one-period Recreational Activity every day with their group. Visit our Recreational Activity page for more information.